2016 January Driver of the Month
Greg D'Angelo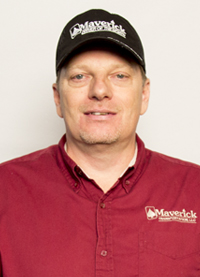 Maverick Transportation announced Greg D'Angelo of Egg Harbor Town, NJ, as their Driver of the Month for January 2016. D'Angelo started his career at Maverick in June of 2013.
"Greg is a great representation and a true Maverick," said Fleet Manager Keith Jackson. "He is always willing to help in any way he can. He is very good at trip planning, time management, and communication. He is up front with any issues and works to solve any problems safely and legally reducing any down time and increasing his utilization. Many times Greg has offered assistance or shared his knowledge with other drivers whether they are student or veteran drivers. Greg has many qualities that I feel would be beneficial and would add variety to the drivers council. Greg has learned how to be proficient in earning his PFP as he is always within the top 10."
D'Angelo has one child, Krista, and has three grandchildren: Kaylee, Kendall and Kaytlynn. In his spare time, he enjoys spending time with family, fishing, and golf.
---
Outstanding service gets recognized at Maverick.
The Driver of the Month program is a high honor for specially-selected Maverick drivers. Every month Maverick recognizes a driver from the company's fleet who demonstrates exceptional commitment to their profession, while maintaining Maverick's standards of holding safety in the highest regard. At the end of the year, all Maverick employees vote from the twelve Driver of the Month honorees to select the Driver of the Year, which is announced the following January. As Driver of the Month, the recipient also serves as a voice of fellow drivers on the prestigious Driver Advisory Council, which meets with our leadership team on a quarterly basis.