Experienced Drivers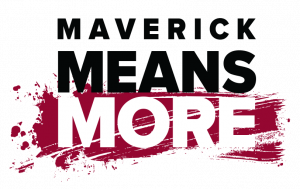 AS AN EXPERIENCED DRIVER, YOU CAN EARN UP TO $92,000 YOUR FIRST YEAR!
If you're an experienced CDL-A truck driver looking for a next-level career, you're in the right place! Join Maverick and receive outstanding home time options, best-in-class pay, industry-leading training, and the newest and safest equipment on the road. We offer Regional, OTR, Marine & Dedicated lanes to meet your needs and fit your lifestyle.
We offer you the opportunity to play a vital part in a prestigious network of professional drivers.
Over 36% of our current driving fleet holds more than 4 years of Maverick experience and we know you'll be a great addition. Our professional drivers are held to a high standard, because in order to be a true Maverick, it takes a unique individual. One made of integrity, a great work ethic and a professional attitude.
PAY AND BENEFITS

Experienced drivers (6+ months experience) earn up to $92,000 (First Year Average depending upon division)
Weekly Guarantee Pay!
Pay for Performance Bonus Introductory/New Hire Rate ($.01 per mile)
$1,000 PAID PRE (Pre-Employment Evaluation Pay) with travel, lodging, breakfast, and lunch provided
$1,000 Business Unit Training
$1,000-$2,000 Driver Referral Bonus

Based upon the experience of a hired driver
Drivers who are considered a rehire are not eligible for the referral bonus payout

$500 Non-CDL Referral Bonus

Includes securement, technicians, and office positions.

$15/hr Detention Pay
Paid Weigh Station Bypass & Tolls

Paid Vacation (Earned Monthly!)
Holiday Pay-$100/day for 6 holidays per year
Modern and well-maintained equipment
In-truck WiFi
Refrigerator, APU/EPU, and location to hang flatscreen television!
Pay increases up to 5 years
Pay for Performance Bonus Program (up to $.06 per mile bonus)
Passenger Authorization Program
Excellent Benefits Package! (Effective first of the month, 30 days after employment)
Health/Dental Insurance & Rx card
401(k) Retirement Plan + match (Maverick will match 100% of your contributions up to 3% of your weekly pay, on a weekly basis, for each week that you contribute.)
$30,000 Paid Life Insurance Policy (FREE)
Per Diem
GI Bill OJT™ Program
View our hiring map here to see the driving opportunities in your area!
FREQUENTLY ASKED QUESTIONS
What advantages do I get coming in as an experienced driver?
We've added major advantages to our experienced drivers' welcome package. For starters, we'll help transition you from your former driving job by granting higher starting pay and greater PTO time based on your verifiable OTR experience. This PTO time is earned monthly rather than yearly. Your benefits will also go into effect much faster. (First of the month following 30 days of employment versus the industry average of 60+ days.)
What benefits do you offer and how much do they cost?
Affordable, Industry-Leading Health Insurance Plan that goes into effect the first of the month, 30 days after your first date of employment!
Weekly Premiums
$36.75 = Single
$89.25 = Employee + Child(ren) or Employee + Spouse
$105.00 = Employee + Family
Eligibility: 1st of the month after 30 days
RX: Tiered plan with co-pay structure ($20/$40/$60/$80)
Wellness Care: 100% Coverage
Deductible: Individual - $1,100
---
Other Insurance Plans Available
Dental, Vision, (Paid) Life, Disability, Accident and Cancer.
401k + Match
Maverick will match 100% of your contributions (up to 3% of your pay with a max of $3,000) annually.
Vacation
Start earning your paid time off in your 3rd month of employment! Time earned increases with your experience.
3 - 18 months of verifiable OTR experience as a new hire, .5 day/month (4 hours)
19 - 48 months of verifiable OTR experience as a new hire, 1 day/month (8 hours)
49 - 108 months of employment, 1.25 days/month (10 hours)
After 109 months of employment, 1.75 days/month (14 hours)
Maverick also has a Driver Holiday Pay Program that pays $100/day for 6 included holidays.
What speed are your trucks set at?
Maverick trucks are governed at 65 mph. We also provide a new technology called PasSmart that is available on each Maverick truck. This technology allows you to drive up to 70 mph for 1 hour during an 8-hour driving period.
*(Divisions that go to Canada will not have the PasSmart option at this time.)
How much home time do Maverick drivers get?
Maverick offers a variety of home time options depending upon what divisions are available in your area. Most get home most weekends in our regional divisions. Keep in mind that this is the trucking industry and things will come up. Family is important to Maverick and this is of the highest priority.
What are the requirements to be a Maverick driver?
You must be at least 21 years old and live within the hiring area. Your driving record and hiring criteria must match up with Maverick's requirements and will be evaluated when you apply with us.
What is the best way to fill out an application?
You have several options. You can apply directly online, download an application by clicking on the printable application link or call us at 800-289-1100 and a recruiter can mail, email or fax you an application.
How long is orientation and training?
If you have at least six months over the road in the last three years, you will complete 5 days of $1,000 PAID PRE (Pre-Employment Evaluation) and one week of $1,000 PAID Business Unit Training. If you have less than six months of over the road experience, you will need to complete our student training program.
How does the application process work?
When you submit your application, it will be evaluated and we will contact you to review your application and begin processing. We will then order your background reports and verify past employment. Once this process is complete, we will send your application to our hiring committee for final approval.
What is your policy on traffic tickets and criminal background?
At Maverick we have our own point system we use to evaluate your Motor Vehicle Report. We also have a policy regarding criminal convictions and evaluate each applicant on a case-by-case basis.
Can my significant other ride with me? What about animals?
Maverick's passenger authorization program allows one rider at a time, 13 years of age & older and is no cost to you. We do not allow animals in our trucks.
Do I need a Hazmat endorsement?
No, Maverick only requires a Class A CDL issued in the state that you reside in.
Where are your facilities located?
Maverick's home office is located in North Little Rock, AR. We have facilities in Portage, IN; Madison, IL; Green Bay, WI; Laurinburg, NC; Fort Smith, AR; Church Hill, TN and Burkburnett, TX.