2018 May Driver of the Month
Brian Campbell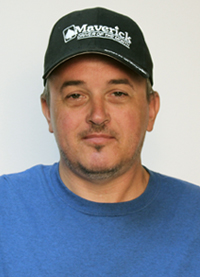 Maverick Transportation announced Brian Campbell of Sturgis, KY, as their Driver of the Month for May 2018. Campbell has been driving with Maverick since August 2016.
"Brian Campbell's work ethic, positive outlook, time management, customer service, and polite manner are just SOME of the characteristics you think about when someone mentions his name," said Fleet Manager Treece Johnson. "He is always quick with a joke, a laugh, and even when things are not going his way, he stays professional in the face of adversity. He truly does his job the Maverick Way and is a professional driver that takes pride in his work. Brian takes care to do the job right the FIRST time. Anytime I've asked anything of him, he is quick to respond with a "No problem." Brian is a team player and always a great role model for other drivers. Brian is a perfect choice for Driver of the Month."
---
Outstanding service gets recognized at Maverick.
The Driver of the Month program is a high honor for specially-selected Maverick drivers. Every month Maverick recognizes a driver from the company's fleet who demonstrates exceptional commitment to their profession, while maintaining Maverick's standards of holding safety in the highest regard. At the end of the year, all Maverick employees vote from the twelve Driver of the Month honorees to select the Driver of the Year, which is announced the following January. As Driver of the Month, the recipient also serves as a voice of fellow drivers on the prestigious Driver Advisory Council, which meets with our leadership team on a quarterly basis.