Dedicated
Collaborate. Design. Execute.
Maverick recognizes that no two customers are the same and each come with their unique set of needs. That's why our team of sales professionals are here to offer your company a consultative approach, tailoring a customized solution from beginning to end to meet your requirements.
Simply put, our goal is to understand your business better, in turn delivering the right combination of people, assets and ideas that equal a measurable difference, at the best possible value.
With a logistics partner like Maverick by your side, we provide your company access to proven logistics expertise without the significant investment in people, training and software needed to build an in-house traffic department.
Want all the value added services you expect from a carrier like Maverick, with guaranteed capacity? With a fleet of dedicated Maverick trucks at your disposal, you can have all the advantages of a private fleet, without the headaches. Let our network of equipment and drivers give you the flexibility to meet the changing needs of your business, in turn making you more competitive in your respective market.
Technology tailored to the unique needs of each customer
Reporting capabilities
Specialty equipment
Trailer pools
Loading and spotting services
On-site management to include formal solution reviews
---
Dedicated Sales Contact:
Taylor Smith
Dedicated Business Development Manager
(501) 955-1427
tsmith@maverickusa.com
Justin Brown
Vice President of Dedicated Operations
(501) 955-1703
jbrown@maverickusa.com
---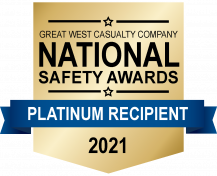 Maverick Transportation has been honored for a fourth year with the Platinum National Safety Award from Great West Casualty Company, based on our year-end preventable crash results. We take great pride in our unwavering commitment to safety and are incredibly proud of our professional drivers in achieving this accomplishment.