February 4, 2022 (North Little Rock, Ark.) – Maverick Transportation has announced their 2021 Drivers of the Year. Robert Bell was named the 2021 Over-the-Road (OTR) Driver of the Year and Ed Coleman the Dedicated Driver of the Year.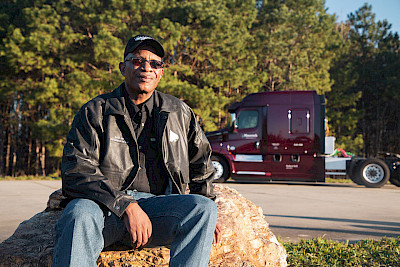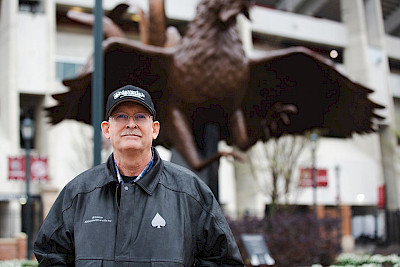 This honor is awarded each year to the Maverick drivers who not only portray a high commitment to safety, but exhibit high moral character and professionalism in all aspects of their role. These drivers will also serve as a representative for all professional Maverick drivers.
It's an incredible achievement to remain one of the best performing drivers every year, specifically considering Robert is a driver that has 17 safe years of driving including a 2 million-mile award. Along the way, Robert has earned the respect of drivers and non-drivers alike. If you spend some time with him, you will find that he has remained very curious throughout his carrier. He wants to know what you think and why. You can expect to be asked "let me ask you something", before he gives you his thoughts. In this way, Robert is a true partner working to find solutions that are good for the driver and for the business," said Vice President of Operations John Coppens.
Additionally, Maverick's Vice President of Glass Craig Brown had this to say about Ed Coleman, "On behalf of the entire Maverick Glass team, I would like to congratulate Ed for being named the Dedicated Driver of the Year for 2021. He has truly earned this distinctive honor. Not only is Ed's individual performance top-notch, it's his willingness to always do what's required to meet our customers' needs, and our customers recognizing his unwavering commitment. Ed has a long history of stepping forward to help his fellow drivers in a cheerful and gracious way and his knowledge of the intricacies of glass hauling is invaluable. When issues arise, Ed doesn't just point out the problem, he includes possible solutions with an emphasis on safety first. Thank you, Ed, for representing us in The Maverick Way."
Robert Bell said, "At first I thought it was a joke! It was so exciting because I never thought I would get this award. I knew I was a good driver, but to get rewarded for all of my hard work, was amazing. This is the highest award I could get. I enjoy the opportunity to help other drivers and I look forward to being a representative of our fleet. We've got some great drivers here."
Robert is an 18-year veteran of Maverick and had some thoughts for incoming drivers, "Maverick's people want to help you. That is why I have been here for this long. They treat you with respect. One thing you have to learn is everything is not always going to work out and that is ok. Maverick will always take care of you."
Ed Coleman said, "It was such a surprise to be named the 2021 Dedicated Driver of the Year. I can't tell you how nice it is to be recognized for my work. If I could give any piece of advice to another driver, I would say to do it right from the beginning. Maverick shows you the right way and if you do it that way from the start, you'll have more success."
Founded in 1980, based in North Little Rock, Arkansas, and operating over 1,600 units, Maverick provides OTR and Dedicated services to the flatbed, glass and specialized transportation markets throughout North America. To learn more about Maverick Transportation visit www.maverickusa.com.