10.6.2023 (North Little Rock, Ark.) – Maverick Transportation is excited to announce that the first driver in Maverick history and their longest-tenured driver, Kirl Tartt, has earned a Four Million Miles of Safe Driving award.
Kirl has been with Maverick for over 33 years and has been a flatbed driver for approximately 45 years. In addition to earning many safety-related and career milestone awards, Kirl has tarped over 4,600 flatbed loads, delivered over 6,200 loads and has made over 150 trips around the world with the miles he has driven.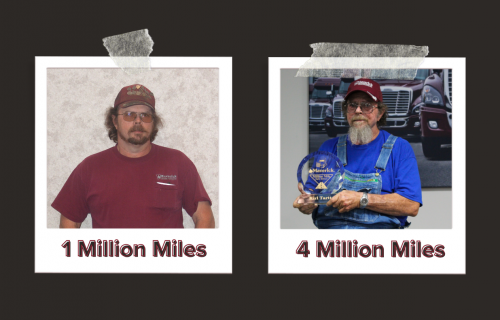 According to Operations Manager, Lea Lindsey, "I have the upmost respect for Kirl, and I appreciate the things we have both learned from each other over the years. He has taught me a lot along the way, and I hope in some small way I have done the same for him."
"Kirl is a very hard worker and a loyal employee," added Operations Manager Van Beck. "He takes load securement and safety very seriously. He will help anyone if they ask for it, or if he sees someone struggling."
In addition to a brand-new safety plaque created to commemorate this milestone, Kirl was also awarded $4,000 for this amazing achievement.
Founded in 1980, based in North Little Rock, Arkansas, and operating over 1,600 units, Maverick provides OTR and Dedicated services to the flatbed, glass, marine and specialized transportation markets throughout North America. To learn more about Maverick Transportation visit www.maverickusa.com.